Incoming Families 2022- 2023
2022- 2023 ORIENTATION
The 2022-2023 orientation for incoming families is scheduled for June 29, 2022. The in-person session will be held in the school auditorium at 9 AM - 10 AM followed by a quick school tour and the virtual session at 6 PM - 7 PM. Registration is required to attend the in-person session. See details below.
In-Person AM Orientation
Date: June 29,2022
Time: 9 AM - 10 AM ( entry begins at 8:40 AM)
Location : School Auditorium
Registration required: Due to the limited seats, we can only accommodate one guardian and their child(s) who will be newly enrolled for the next school year. All school visitors must be vaccinated and show its proof upon the entry. The registration form has been sent to the families of accepted students.
Virtual PM Orientation
Date: June 29,2022
Time: 6PM- 7 PM
Location: Zoom ( link has been sent to incoming families)
Honors Placement Exam
The 2022 - 2023 Honors Assessment has been scheduled for June 7th, 2022.
Invitation to the test was sent to the accepted incoming families. Registration required. Please note the honors assessment is optional .
Welcome to Russell Sage!
Our Honors Placement Exam for incoming 6th and 7th graders is scheduled for Tuesday, June 7th @ 8:30 AM.
Entry to the building will begin at 8:10 AM via the Main Lobby located on the park side of the building. Students must attend in-person to take the exam. If your child is interested in an honors class placement, this assessment is mandatory. Parent/ Guardian must register in advance.
Date: June 7, 2022
Morning entry: 8:10 AM - 8:30 AM
Exam hour: 8:30 AM - 10:30 AM
Dismissal : 10:35 AM
Please pick your child up at the end of the exam.
EXAM FORMAT:
30 multiple choice questions (15 ELA and 15 Math). Students will have 2 hours to complete the exam.
Important dates
More information is forthcoming.
SCHOOL SUPPLIES
Supply list will be posted soon.
Pupil Path : Where to Start
Where to Start
On September 9th, incoming families will receive the registration code to create Pupil Path Parent Account and Student Account.
You can register for PupilPath via your favorite web browser on your computer or you can register via our PupilPath Mobile App. To learn more about our Mobile App, click here.
If you choose to register for PupilPath through your favorite web browser, the following interactive guide, and supplemental videos will help you through this process. Additionally, step-by-step guidance is also provided below.
How to add a second student to your PupilPath Account:
The following video/directions will help guide you through this process:
Adding a Second Child - Spanish (Video)
1. Go to pupilpath.skedula.com and login
2. On the next screen, click Continue Login; do NOT click add student on the left-hand side.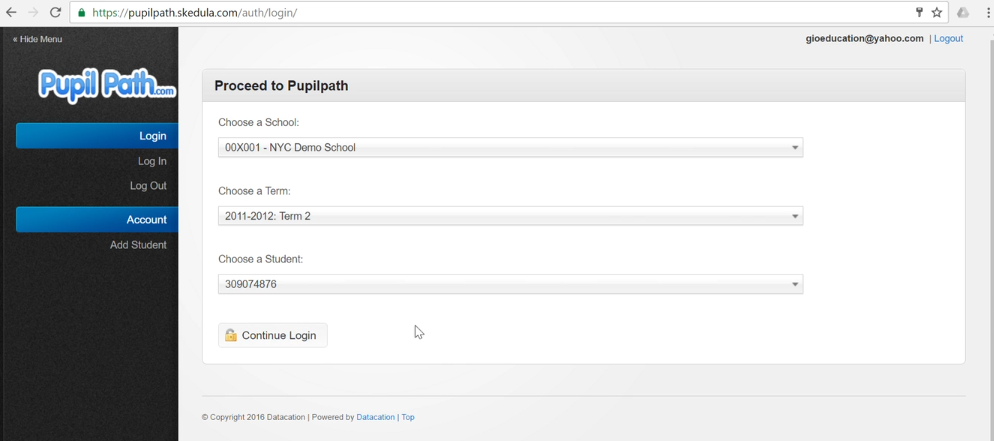 3. Once you have logged in, click on Switch Students found at the top left of your screen

4. You will be back on the original login screen and you can now click Add Student.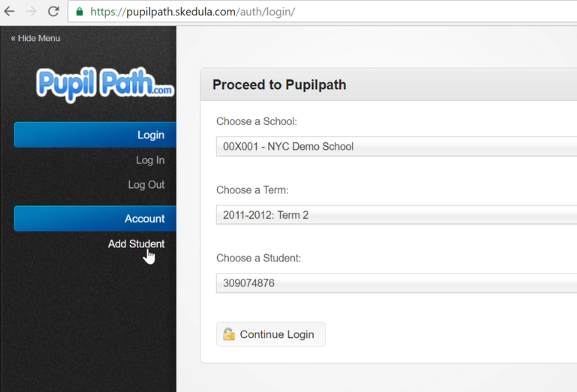 The process for adding a second, third or fourth student will be the same as it was with the first student. For a review of this process, please click here.